Back to blog
Posted by Louise Gagne, FICA, FSA, December 13 2017
Health Insurance
Travel Insurance: Bring More Than Your Bikini & Toothbrush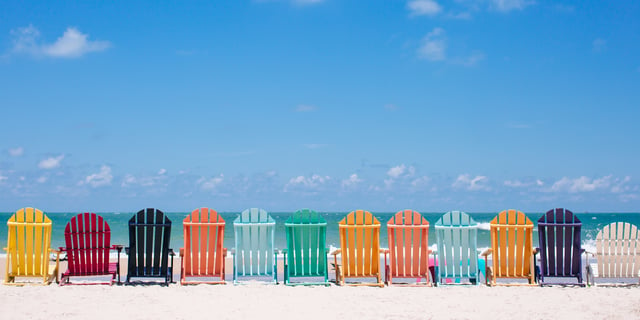 The vast majority of group healthcare insurance contracts include travel insurance. This insurance covers most expenses incurred further to an accident, an injury or a sudden illness that occurs while travelling outside of your province of residence.
However, several factors can have a significant impact on the expenses that will be covered. In this article, you will find out many things to consider before leaving on your trip!
Emergency
Out-of-country expenses are covered only when they are incurred due to an emergency. Normally, massages to the sound of the waves or maintenance medications you forgot to buy before leaving will not be covered.
Pre-existing conditions
Unlike individual travel insurance, no questions will be asked about your health when you have group travel insurance. However, this does not mean that everything is covered: to be covered while abroad, a health condition must be stable.
For example, someone who had a heart attack and decides to recover on the beach will not be reimbursed if the heart problem recurs during the vacation. The definition and duration of a "stable condition" can vary significantly depending on the contract. Generally, this refers to a condition for which there has been no medication adjustment, treatment, hospitalization or new symptoms during the 3-month period before departure.
You should be aware that a doctor's note stating that you are fit to travel will not make your condition "stable" if it does not meet the definition under the contract. If you are not sure, the best thing to do is to call your insurer and provide complete information in order to find out where you really stand. Concealing information will not make you insurable; you are better off knowing this before you leave!
Exclusions
When travelling, it is tempting to step out of your comfort zone and try new things. However, before you dare, remember that some extreme sports are specifically excluded from the contract. The most common ones include bungee jumping and parasailing. Mountaineering, underwater diving and parachute jumping can also be part of exclusions. Once again, the best way to be certain is to read your insurance brochure or call your insurer before you leave. Or you may rather be content with sipping pina coladas on the beach! In case you have too many, apply the same safety rules as in Quebec and don't drive: most contracts also exclude accidents and injuries resulting from impaired driving under the influence of alcohol or drugs.
Finally, pregnant women must refrain from travelling within 2 months of the expected delivery date, as expenses related to pregnancy or complications are usually excluded during that period.
War and terrorism
With everything that's going on in the world today, it has become riskier to travel. No problem, you tell yourself, as you are insured! Beware: travel insurance contracts commonly exclude "any claim resulting from declared or undeclared war or insurrection". This means that injuries suffered because of a terrorist act perpetrated in the country you are visiting will not necessarily be covered.
Travel to countries (or parts of a country) for which the Canadian Department of Foreign Affairs has issued a warning is also excluded.
Prior permission
It is important to know that some group insurance contracts include a provision requiring that insured members notify the travel assistance company as soon as an injury, accident or illness occurs. You must also obtain prior permission from the travel assistance company before initiating any action or incurring any expense. Failure to do so could lead to the limitation or denial of reimbursement for certain expenses.
It is therefore imperative to have your travel insurance contact information handy with you. You will find this information on the back of your group insurance card or on a specific card. The travel assistance service will coordinate the care you need, normally proceed directly with the payment, and can even provide you with translation services when required.
Duration of covered trips
An important distinction must be made regarding the duration of trips. The number of days indicated in your contract can refer to a maximum number of days per trip or to the first days covered.
For example, if the contract stipulates that trips are covered up to a maximum duration of 60 days, only trips lasting 60 days or less will be covered. If you are leaving for 70 days, your contract will provide no coverage whatsoever, and you will have to purchase an individual insurance for the full 70-day period.
On the other hand, if the contract stipulates that the first 60 days are covered, you will only need to purchase insurance for the 10 additional days in our example.
Travel Insurance cancellation
Group contracts increasingly include a travel cancellation insurance to be used when you are prevented from leaving or forced to return home for major reasons. The reasons accepted are specifically listed in the brochure and are situations beyond your control (hospitalization, serious illness, death of a close relative, jury duty, etc.). Cancellations for cause of major disaster in the destination country are usually excluded from insurance contracts but are covered by airlines or travel wholesalers.
In short, travel insurance is not as simple as it seems, and you would be well advised to get all the facts before leaving in order to avoid unpleasant surprises. To leave on a whim with your swimsuit and toothbrush is nice, but to leave knowing what risks are covered and what you should avoid is even better!
Louise started her career at Blue Cross before working as a Senior Advisor for a large actuarial firm for more than 15 years. Fellow of the Canadian Institute of Actuaries, Louise joined AGA in June 2014. She assumes responsibility for training, provides technical support, and supplies advisory activities for the large business clientele. Louise is also lecturer at l'UQAM.