Back to blog
Posted by Vincent Soucy, FCIA, FSA, novembre 7 2018
Health Insurance
A Unique Approach to Managing Prescription Drug Costs!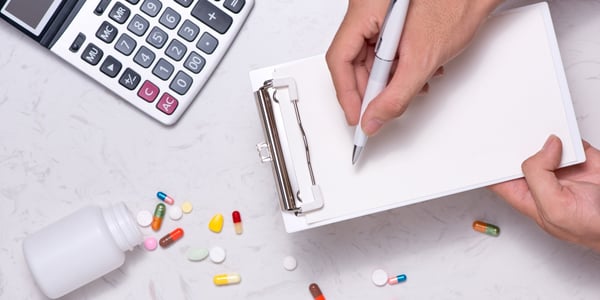 For the past several years, prescription drug cost increases have been ranging from 4% to 8% annually. If you provide a group insurance plan to your employees, you most certainly have noticed this trend. An aging population, the development of complex medications for rarer diseases, increased prevalence of chronic illnesses and disengagement of public plans are some of the reasons behind this sharp rise in drug prices.
If you are confronted with substantial group insurance premium increases and are looking for solutions, you may refer to the article we posted two years ago on the four ways to reduce your costs. One of these ways is to reduce the paid claims amount through stringent cost management. Over the past two years, AGA Benefit Solutions has developed a cost management approach that is unique in the market and can help you save on prescription drug costs.
What is cost management?
For AGA, managing costs primarily involves finding solutions to reduce the paid claims amount without reducing the coverage provided to members. In some cases, contract clauses can be introduced to make these measures mandatory. Generic substitution is a good example of managing prescription drug costs. It allows members to continue receiving their treatment while using the least expensive medication.
There are other means of reducing prescription drugs costs, such as selecting a pharmacy offering competitive prices or getting a 90-day supply. But at this time, it is not yet possible, at least in Quebec, to make such measures compulsory under insurance contracts. However, it is possible to inform members of the options at their disposal and encourage them to do their part in controlling plan costs. Does this make a difference? Yes indeed!
Assessing potential savings
With your claims data, we are able to analyze how much money is "wasted" on overly expensive pharmacist fees or because members go the pharmacy every month for maintenance medications.
For one of our clients – let's call it ABC Plant to preserve confidentiality – we determined that for 2017, savings of approximately 11% could have been made if all members had adopted better consumer habits.
A detailed and unique action plan to lower your prescription drug costs
After speaking with ABC Plant management, we agreed on a detailed action plan and a comprehensive communication campaign.
First, we agreed to implement mandatory generic substitution and add a $3 user fee (deductible per prescription) to encourage members to ask for a 3-month supply whenever possible. These changes led to a rate reduction of approximately 7%.
Communicate, communicate and… keep communicating!
To ensure that all employees were aware of plan changes and, more importantly, knew which consumer practices they should adopt to achieve savings, we put up posters in common areas, included educational leaflets in our mailings, held workplace meetings, and added to our portal a button inviting members to compare the price of their prescription drugs.
We also developed an educational video, which was sent as an email link to all employees, featured during workplace meetings, and made available on our website and through the members' portal.
And that's not all! In a group insurance plan, claims are not only for your employees. Often, 50% of claims are for dependents! Thus, we identified claimants with a chronic condition and sent them a targeted communication directly to their home, of course with due respect for privacy. Our unique third-party administrator/third-party payer business model enables us to do such mailings and bring added value to our clients.
Outstanding results!
After the first nine months of our project with ABC Plant, we witnessed the following results:

The average length of prescriptions went up from 27 days to … 46 days! This is a most telling statistic. Our strategy worked. Several employees adopted good consumer habits for their medications, which generated savings without making any cuts to the plan!
While the overall market is facing a 5.3% increase on average this year (according to Telus Health), the average cost per employee for health care is down 14% from the previous year (adjusted for inflation), which is 4% less than the best estimate we had presented to the client (7% from plan changes and 11% from improved consumer practices among employees).
Are you struggling with rising costs?
Contact us, and we can help you get outstanding results too!
We will assess your plan with you, set up an action plan, guide you every step of the way, and measure the results with you according to specific indicators.
Our cost management approach is made possible through our unique third-party administrator business model. This is also part of the AGA difference!
Holding a Bachelor degree in Actuarial Science and a Fellowship with the Canadian Institute of Actuaries, Vincent Soucy worked for the first 10 years of his career in an actuarial consulting firm where he advised national clients on their benefit and retirement plans. He joined AGA in March 2014 and supervises the consulting and underwriting team.