AGA & Folks Join Forces to Make Life Easier!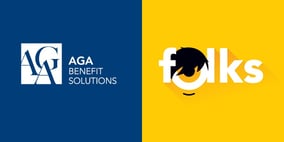 AGA Benefit Solutions and Folks, a human resources management software firm, are partnering to make life easier for their common clients by integrating their technology platforms to provide enhanced management of human resources and group insurance plans.
A Range of Benefits
Building on both companies' vision of continuous service improvement, this partnership enables clients to save time on data entry, avoid potential errors, streamline their operations, and make incremental changes.
Available Functionalities
Creating a New Employee File
When a new employee file is created, employers must often repeat the same information in several places (payroll, group insurance, HR software, retirement plan, etc.). Integrating your Folks software data into the AGA Benefit Solutions Administrators Portal will avoid such duplication, thus simplifying your work!
Changing Personal Information
When you change employee information, such as salary or address, in Folks software, the new data is automatically forwarded to AGA, with no action required on your part.
Termination, Disability, Change of Positions
For changes impacting group insurance, Folks software will recommend updating the employee file on the AGA portal. You can move between the two platforms without entering a password or doing a file search.
Direct Portal Access
Folks software provides direct access to an employee's group insurance file on the AGA portal at any time without entering a password or doing a file search.
Information on Source Deductions & Taxable Benefits
Folks software automatically retrieves group insurance source deduction and taxable benefit data on the AGA portal.
How to Implement the Integrated Solution
If you are already a client of AGA Benefit Solutions and Folks, simply contact us. We will initiate the implementation process, which consists in three short steps:
Folks and AGA set up an electronic bridge enabling secure data exchange for your file.
Folks activates the AGA Benefit Solutions application in their software.
You can then start using the application!
If you are not currently a client, contact us promptly so we can introduce you to all the advantages of doing business with both AGA Benefit Solutions and Folks.
How Much Does It Cost?
The software integration is offered at no extra charge. We are confident this solution will save you time and lead to greater satisfaction!