Back to blog
Posted by Alexandre Timothy, Group Insurance and Group Annuity Plans Advisor, January 22 2016
Plan Implementation
3 Things to Consider to Implement your First Group Insurance Plan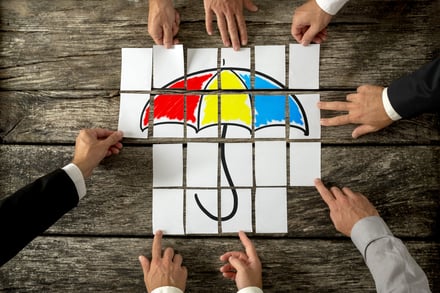 Lucky you! Your small business did quite well last year, thank you, and you would like to share the wealth with your employees. Also, you missed out on hiring some new people who seemed interested but were deterred by the fact that your employee benefits weren't quite up to par.
You're evidently at the stage where you need to set up a group insurance plan of some sort. But can you afford it, and what type of plan should you get? This article will outline for you the different factors you need to consider before instituting a group insurance plan.
1. Financial risks versus budget
Let's first define what a group plan is. Group insurance can basically be divided into two main types: financial risk coverage and so-called "budgeted" coverage. Financial risk insurance is used to cover factors that could give rise to major expenses for a family, notably death, invalidity or disease. Budgeted insurance, on the other hand, is designed to cover more foreseeable expenses such as treatments provided by various specialists like massage therapists or physiotherapists, as well as dental care, vision care, and so on
Your plan's prime goal should be to adequately cover the financial risks incurred by your employees and provide budgeted guarantees based on what you can afford. Costs are fairly easy to determine and define when a standard plan is being set up, but since the cost of group insurance fluctuates on the basis of several factors, such as the volume of claims, it is quite something else to determine the cost of future years. We will look at a variety of solutions to these issues below.
2. The public plan: basic coverage
The public plan provides your employees with only the most basic financial coverage. If any of them were to become incapacitated, for example, they would only be entitled to only 55% of their salaries for 15 weeks, and their total yearly insurable salary would be capped at a maximum of $60,300.
As for drug insurance coverage, taxpayers generally contribute $710 on their annual income tax returns for access to the public drug insurance plan. In Quebec, it's called the Basic Prescription Drug Insurance Plan (RGAMQ). This public plan, for example, charges a monthly deductible of $22.25 and reimburses only 65% of prescription costs.
With a private plan, your employees are not required to pay this premium. Instead, they defray some of the cost of the group plan you have set up. Generally speaking, such a group plan will cost your employees a little more than they would pay into the Quebec health care plan, but they would definitely enjoy better coverage, notably including life insurance, disability insurance and travel insurance, as well as more complete reimbursement of prescription costs.
3. The health care spending account, more flexible than a conventional plan
The challenge facing you is to set up a plan that adequately protects your employees, entitling them to all the health care they need, when they need it, although with some provisions for reasonable use to prevent big hikes in subsequent years. Without a doubt, you should consider the health care spending account as a possible solution.
A health care spending account allows you to pre-determine the amount available to your personnel for health or dental care not covered by their plan. For example, employees could dip into this fund to pay for glasses, orthodontic treatment, dental care, or even paramedical care such as chiropractics or physiotherapy. The amount available in the plan for such purposes will be based on your budget, but it does come with some measure of flexibility that conventional plans don't have.
The ideal solution in terms of your first group insurance coverage is to opt for a basic plan (life insurance, disability insurance, prescriptions and travel) and combine it with a health care spending account in the desired amount. This conditions your employees to use their plan reasonably, so you can effectively manage your costs over the long term, yet provide an attractive benefits package. In other words, you'll be able to stay within budget and your employees will have a group plan they can appreciate.
Please take a little time to consult the different basic plans offered with our ASSET 2‑25 product. You can also download our brochure.
One last point: when establishing your first group insurance plan, you may also want to consider setting up a pension plan as well! Get ahead of this next stage of your growth process by consulting this article.
Group Insurance and Group Annuity Plans Advisor | With a Bachelor in finance, Alexandre Timothy understands the challenges and realities of his clients, both from a financial point of view as well as a level of human resources and benefits. With his new outlook in a traditional industry, Alexandre offers innovative solutions to ensure the sustainability of social benefits while meeting the needs of participants and employers. During his ten years of experience, Alexandre has stood out for his creativity and integrity, becoming a highly valued adviser by many of his customers.