Back to blog
Posted by Remi Lachance, CRHA, MBA, May 6 2020
Management & HR
5 tips to ease the recruitment of your team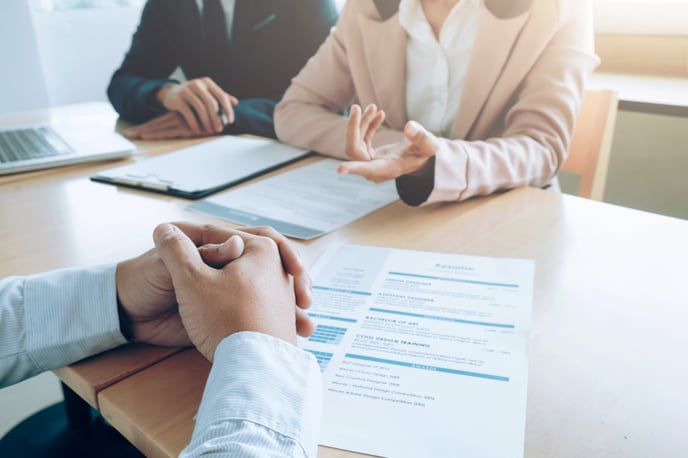 For many organizations, the achievement of staff recruitment objectives has been a major challenge in recent years.
Each week, the experts at our consulting firm find that the difficulty lies in the evaluation of interview applications, the difficulty in establishing a structured job interview that allows for a more judicious selection, determining the best interview questions, etc.
It can, therefore, be very difficult for many organizations to succeed in recruiting the required talent at the same time as to leave a good first impression of the organization through this process that will be carried out by tens or even hundreds of people.
Here is five tips to ease the recruitment of your team.
1. DETERMINES WHICH COMPETENCIES ARE NEEDED
First, before you begin your recruitment process, determine what attributes and competencies are needed to succeed in the position you want to fill.
This way, you will know that you are recruiting based on internalized requirements and not on internalized biases or various biases. If you determine what the objective criteria are before you even start on your interview process, it will be more efficient and much less subjective.
2. THE IMPORTANCE OF INTERVIEW QUESTIONS DURING RECRUITMENT
Assessing the non-technical skills of an application often remains the most difficult part of an interview. According to Schmidt and Hunter (research results based on 85 years of experimentation and research), the best way to predict an individual's performance in employment (in a recruitment process) remains a structured interview.
Unless you test the individual and evaluate them in a real-world simulation of the position to be filled, your best ally will remain your maintenance grid, which you could also pair with other means (skill tests, psychometric tests, etc) to increase your chances of predicting the success of your hiring.
3. QUESTIONS TYPES DURING AN INTERVIEW
There are three (3) major types of questions that you should use alternately during your job interviews:
Knowledge Questions: These are questions that require applicants to demonstrate certain knowledge or skills required to perform the duties of the position.
Situational Questions: This is to put candidates in a hypothetical situation and ask them how they would react in the circumstances. In this context, it is assumed that the stated intentions are indicative of future behaviour.
Behavioural Questions: those are based on the assumption that if a person has done so in the past, they should surely be able to do it again in the future. It is, therefore, a question of asking candidates to describe past experiences or events. Normally, the answer should be formulated according to the STAR model, either by describing a past situation; Detailing the tasks done, then presenting the work to be done and the objectives that were being pursued; exposing the actions accomplished and finally in explaining the results obtained in connection with the actions taken.
The behavioural questions are reassuring for a future employer. However, the context is changing from one organization to another and if the person has no experience, these types of questions will be less relevant.
4. STRUCTURED INTERVIEW GUIDE
The structured interview or conducted interview follows a rigorous method of administration where the questions are based on an in-depth analysis of the position. During the structured interview, the same questions are administered to the candidates and their answers are assessed against criteria relevant to the position and essential to the job-related tasks.
In a structured interview guide, it would, therefore, be appropriate to incorporate behavioural indicators and a rating scale.
If you want a STRUCTURED INTERVIEW GUIDE EXEMPLE, download the E-Book (French only): Guide de recrutement et de sélection de candidatures.
You'll get examples of situational and behavioural issues as well as examples of possible behavioural indicators, which will make it easier to evaluate applications in your recruitment processes and improve it for sure.
To support you in recruiting more efficiently, check out the article with 15 outils pour vous aider dans votre recrutement (French only).
5. HOW TO ASSESS 5 KEYS COMPETENCIES
More and more managers and hiring managers want to evaluate 5 general competencies that are increasingly needed in a wide variety of organizations and positions.
To access a variety of questions that will help you better identify these various key competencies presented below and make you more efficient in your recruitment and selection processes download the eBook (French only): Guide de recrutement et de sélection de candidatures.
Adaptability:
Strong competition and the continuing need to adapt to a constantly changing world is a reality in a multi-organization. This means, that you need employees who can adapt as well.
Collaboration:
Because a lack of team alignment impacts the results of a task or the project, hiring individuals who work well with others will be essential.
Leadership:
Research tends to show that organizations with quality leaders are thirteen (13) more likely to outperform their competitors. Finding talent that can inspire, motivate or influence others could be essential to the success of your organization.
Development potential:
Hiring individuals with the potential to grow with your organization can be useful for succession and increase retention of your staff.
Prioritization:
An individual's sense of priorities is a crucial skill. Time management to perform a set of tasks (in the first place), within time constraints (secondly), to achieve a goal (last). Hiring an individual who can't meet deadlines could be a major struggle for your organization.
DID YOU KNOW THAT?
The experts of our human resources consulting firm can assist you in your recruitment process, both strategically and operationally.
Here are some of the services offered at Proxima Centauri:
Strategic Recruitment Services
Audit of the staffing process;
Developing and implementing a human resources marketing plan;
Analysis and recommendations on your employer positioning;
Recruitment campaign;
Web Recruitment Microsite.
Staff recruitment services
Post view and broadcast;
Active search for applications and sourcing talent;
Targeted advertising campaign;
All included recruitment;
Audit protocols: credit investigation, a criminal investigation, references;
Staff training.
You can check out other useful articles if you want to perform better or improve your results, via the Proxima Centauri's blog.
President of Proxima Centauri | Rémi Lachance acts as a consultant in management and human resources to companies in a wide range of industries. He also provides training on topics related to current issues, such as employee attraction, retention and loyalty, strategic recruitment, HR marketing and the effective use of LinkedIn in human resources.