Back to blog
Posted by Louise Gagne, FICA, FSA, February 13 2020
Plan Administration
Benefits Package: Modular, Flexible or Cafeteria?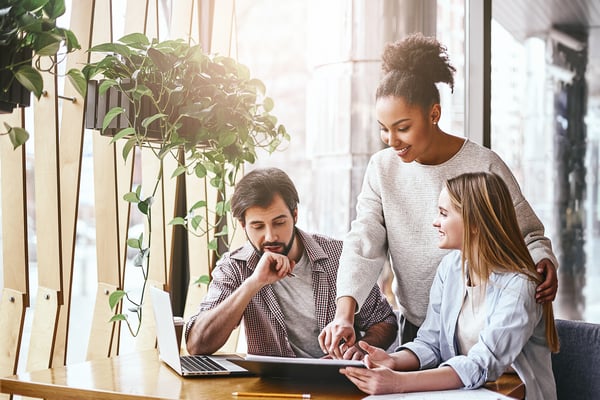 Modular plans are very popular, as they help employers add flexibility to their benefits package. Do you think a modular plan would be the right solution for your company? Or would a flex plan be more appropriate? Which one should you choose? Moreover, how can you tell them apart? And what about the much-publicized cafeteria or super flex plans? They sound interesting, but are they really that different?
Benefits package : an important distinction
The terms used to describe non-traditional plans (i.e. where employees can make choices, contrary to traditional plans where the offering is the same for everyone) are not consistent across the market and vary depending on the users.
Generally, a modular plan refers to the following concept: choices are offered for several benefits or at least for health and dental coverage, and the same choice must be made for all benefits. For instance, a member who has to choose between Gold, Silver or Bronze modules for health care, will be required to select the same module for dental care. As the choice will apply to both benefits, it is not possible to pick Gold for health care and something else for dental; it will have to be Gold all the way.
On the other hand, the flex plan allows for combinations, enabling members to design their own customized "module" based on their specific needs.
The modular plan is easier to understand and administer than the flex plan, but it provides members with less flexibility.
As for the term "cafeteria", it originated with the beginning of flex plans and simply refers to the fact that such plans are akin to a cafeteria where employees choose only what they want from among the dishes displayed. Ultimately, a flex plan and a cafeteria plan are one and the same thing!
A misperception about cafeteria plans
There is a common misconception that the "cafeteria" means a plan where each member is free to choose exactly what he/she wants, as in the example below:
Employee #1: Prescription drugs, eyewear, chiropractor
Employee #2: Hospital, massage therapy, orthopedic footwear
Employee #3: All the above plus orthodontic care for the children
Etc..
A plan where each member would specifically select the care that he/she is sure to use would not be sustainable and could not be implemented. Imagine an insurer who would accept to insure only the houses that are certain to burn down! This is called "adverse selection" and it is a principle of group insurance to avoid it by all means, otherwise costs would be prohibitive.
Even the most flexible plans will limit the coverage options, in order to manage adverse selection and avoid that only high claimants opt for the most generous coverage while only those who claim nothing select the least generous package.
Super flex
Employers who seek increased flexibility can also go with "super flex plans", where choices are not only offered at the level of insured benefits, but also with respect to how unused amounts will be allocated, i.e. to a health spending account, a wellness account, a group RRSP or DPSP, or even to buy additional vacations!
However, for such choices to be possible, the employer must bear a large portion of plan costs, so that employees choosing the basic module will receive additional amounts to be allocated to the different vehicles. There is no use in holding out the prospect that the new flex plan will enable employees to put money in their RRSP, if no one can afford it!
What type of plan should you offer to your employees?
What would be the best solution between a modular plan, a flex plan or a super flex plan? There is no single answer to this question, as each group has different needs.
To make an informed decision, employers must weigh the following considerations:
1-Time devoted to plan administration: A plan offering choices will require a greater administrative effort from the employer than a traditional plan:
Duplication of employee choices and related deductions
Re-enrollment (annually or every 2 years, when employees can change their choices subject to certain restrictions)
Life events (list of events entitling employees to change their choices without constraints providing the employer is notified soon enough)
If you have limited resources, a modular plan might be more appropriate for you, since there are fewer options than with a flex plan.

2- Communication efforts: Communication is key to a successful plan, whether modular or flex. Ideally, employees should be kept informed before, during and after the implementation process. They must also be told how the new plan will work. A more intricate plan will require more extensive communications with employees to make sure they fully understand how to use it to their advantage. If time is limited or if you believe the current knowledge level of your people does not lend itself very well to the successful implementation of a complex plan, a modular plan would probably be your best bet.


3- Group size: For a modular or flex plan to be successful, there must be at least 10%-15% of employees in each available option. There is no point in developing a highly flexible plan if 90% of employees opt for the same package. The smaller your group, the more likely a modular plan will meet your needs and those of your employees.


Are you interested? Speak with your AGA advisor, who will guide you towards the plan that is ideally suited for you!
Louise started her career at Blue Cross before working as a Senior Advisor for a large actuarial firm for more than 15 years. Fellow of the Canadian Institute of Actuaries, Louise joined AGA in June 2014. She assumes responsibility for training, provides technical support, and supplies advisory activities for the large business clientele. Louise is also lecturer at l'UQAM.