Back to blog
Posted by Chantal Dufresne, Senior Vice President, Finance and Operations, September 7 2016
Workplace Wellness
Contribute to Your Employees Quality of Work Life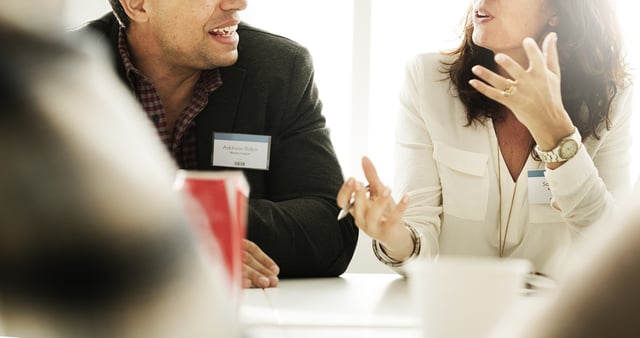 We often hear about retention, motivation, and leadership at work. These three components of the "ideal" company are highly valued by new graduates entering the workforce, but also by current employees seeking better conditions. Do these components really have an impact on the quality of work life? Certainly. However, there are other factors to take into account such as: building a strong work culture, listening to your employees and their desires, providing a healthy and captivating work environment, etc.
Why is the Quality of Work Life Important?
Too often, it is apparent that managers do not take the time to really get to the root of an organizational issue in order to clearly understand the problem. In effect, if the problem is not properly dealt with, it will inevitably resurface and be harmful to the company and its work environment.
Are you wondering why one of your employees is often absent from work? Maybe the real reason for his absences is eluding you. Absences from work and mental health issues cost Quebec companies millions of dollars. This is why nowadays the quality of work life is very important, and why it should be your main focus.
Before blaming an employee, try to:
Understand your employees' issues
Communicate with them and ask the right questions
Make the effort to be understanding and provide a healthy work environment
To do so, here are a few solutions that could have a major impact on your employees:
Develop your company culture
What is company culture? Above all, it is a unique component of your company. Long term, company culture can be adapted, modified, and transformed. However, it is an integral part of the organization, and may not work for another company.
It is also a series of actions and policies that define the employees' well-being, the advantages of working for the company, as well as the personal and professional benefits they receive.
Create a Strong Work Culture
The quality of work life is directly linked to a strong work culture. Your work culture will also be reflected in your company culture. Whether it is based on learning, a feeling of well-being at work, motivation, challenges, or all of the above, it is important that it be properly understood by the employees when they are hired.
On paper, your company culture may seem perfect and ideal for your employees. However, if they do not apply it day-to-day, your culture will disappear over time.
To take shape and truly be adopted by your organization, a good work culture requires time and efforts from everyone. Managers have to be as invested in the process, if not more, as their employees in order for the work culture to be efficiently instilled within the company.
A strong work culture relies on fundamental values, a mission, a vision, objectives, and principles.
Listen to Your Employees
Your employees are the veritable pillars of your company. Without them, nothing can go forward. As we mentioned earlier, it is important to know your employees' professional and personal desires. A drop in productivity or motivation can be financially devastating for a company. However, losing a talented employee in whom you have invested a lot of time and energy can be even worse. It is therefore very important to make sure your employees share with you their opinions regarding the company, work environment, atmosphere, etc.
It is by asking questions, listening, and communicating with our employees that we can predict and adapt the quality of work life.
Offer Advantages Favorable to Employee Retention
As a growing number of companies have already understood, offering certain advantages to your employees can increase their well-being at work, as well as your retention rate. Here are a few tricks to generally increase the quality of work life in your company:
A Flexible Schedule
Indeed, the possibility of having a flexible schedule adapted to their lifestyle, whether it is for family, social life, or other reasons, is very favorable for employees who have certain obligations that do not really fit into a regular 9 to 5 schedule.
A Group Insurance Plan
A group insurance plan is definitely part of the wide range of advantages companies can offer their employees. It is a form of protection for your employees, and also holds an important fiscal advantage for you as an employer or manager.
A Retirement Plan
Help out your employees by providing an assisted RRSP program. This would allow them to reduce their level of financial stress in order to plan their retirement more efficiently, while giving you the chance to demonstrate your level of commitment. The more you demonstrate to your employees that their well-being matters to you by helping them plan their future, the happier and more engaged in your company they will be.
A Vision Focused on the Employees
As we have mentioned several times, it is important to remember that an organization's most important resource is its employees. Without them there would simply be no activity. As each individual has different interests and passions, it is normal to assume that they would like to develop their skills in a particular branch.
This is why it is important to ensure that your employees are occupying positions that are suited to them and that they are passionate about. After all, an individual who is happy at work will be much more productive and will find solutions to the issues they face much more quickly.
Finally, contributing to the quality of work life is beneficial to everyone. By improving work conditions, you are improving your employee retention rate, their motivation to surpass themselves, as well as their productivity. It also allows you to become competitive as an employer and hire the best available candidates.
Group insurance plans, social advantages, relaxation areas, and flexible schedules are but a fraction of what you could do to develop a healthy and pleasant work environment that will be advantageous long term. Do you have other suggestions to improve your employees' well-being?
A Chartered Professional Accountant (CPA) and Certified Corporate Director (ASC), Chantal Dufresne is a manager with more than 20 years of experience in the operational management of small and medium-sized businesses. She held management positions in several accounting firms and worked in a self-employed capacity for a few years. With this background, she brings to AGA her skills and technical knowledge in financial accounting, management and administration. As a board member, she helps define the strategic direction of the organizations she assists and distinguishes herself through her expertise in governance, internal controls and risk management.