Back to blog
Posted by Olivier Coiteux, Group Insurance Plan Advisor, March 30 2020
News
COVID-19: A wide range of health services available online!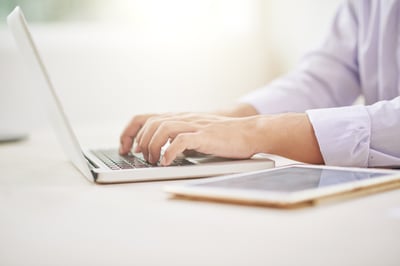 The current COVID-19 pandemic is forcing everyone into home confinement. Many of us have turned to the web for grocery shopping (or at least tried to!), but several other providers offer online services that prove very useful in these times of social distancing, including the following:
VIRTUAL CLINIC
Talking with a doctor on your mobile through videoconference may seem too good to be true? No, this dream of old has now turned into a reality! With EQCare Virtual Clinic services, employees can have a discussion with a health professional in the comfort of their living room.
With the spread of COVID-19, going to see a doctor may be worrisome. At the virtual clinic, doctors may not be able to diagnose COVID-19 through video, but at least you will not risk catching it in the waiting room! They can provide you with wide ranging health advice, write prescriptions and forward them to your pharmacy.
ONLINE PHARMACY
Speaking of pharmacies, now is the perfect time to think of having your medication delivered by mail. No need to go to the pharmacy in person and wait around. And you can get remote advice from a pharmacist. These are good reasons to give it a try. Several pharmacies offer online services, including Picard et Desjardins and Medzy.
Moreover, according to a study by Protégez-vous magazine, online pharmacies often charge lower prices than traditional pharmacies. And the time is always right to save on the cost of your prescription drugs.
EMPLOYEE ASSISTANCE PROGRAM
With the current pandemic, anxiety and stress may run high. With confinement, telecommuting, and kids at home all day, some people may be in need of help and support. AGA Assistance, our employee assistance program, is there for you! Several online resources are available and you can even speak with a specialist (psychologist, social worker, etc.) through videoconference.
PHYSIOTHERAPY ONLINE
Remote consultation with a physiotherapist is now available to everyone in Quebec. Assessment, follow-up and professional advice… without leaving your home! Whether it be for back pain, a sprained ankle or knee stiffness, physiotherapy teleconsultation is offered for a wide range of issues! Services provided include: assessment of a new condition, guidance toward a treatment plan, advice on the evolution of a condition or prevention, exercise training for mobility, strength or balance, and referral to another health professional, as required. Several physiotherapy clinics have made the move, such as PCN Physio and Axo Physio.
OTHER SPECIALISTS ALSO AVAILABLE ONLINE
It is difficult to visit a health professional with the COVID-19 pandemic, but it is reassuring to know that several professionals provide teleconsultation services for appointments where no direct physical treatment is needed. The authorized providers include specialists such as certified dieticians, psychologists, psychotherapists, social workers, occupational therapists, speech therapists and audiologists.
ONLINE CLAIMS
Don't forget to submit your claims online through your AGA Benefit Solutions Members Portal. You will thus avoid mailing delays and your claim will be processed within 48 hours or less. You can also view the details of your benefits and get an electronic copy of your wallet card or your travel assistance card.
ANY QUESTIONS?
Do not hesitate to consult our dedicated webpage on the coronavirus.
Group Insurance Plan Advisor | During 5 years of experience, Oliver succeeded working on processes and concepts that promoted the viability and profitability of group insurance plans to its customers. With his dynamic and innovative approach, Oliver is able to offer high quality expertise focusing on the needs of his partners while optimizing traditional industry practices.