Back to blog
Posted by Francois Ponton, MPA, CHRP, April 12 2017
Health Insurance
Group Health Insurance: The Cost of Prevention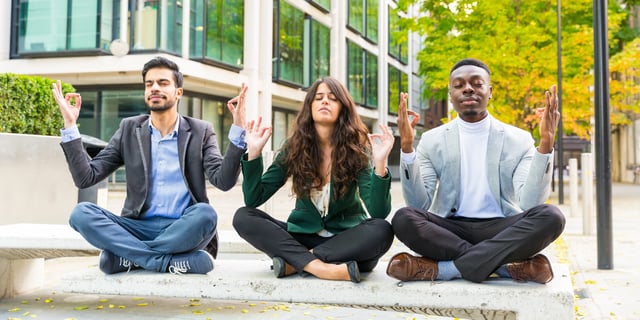 Today, most organizations understand and accept the idea that healthy employees make a positive and active contribution to corporate performance. This is why several employers are now investing voluntarily in their employees' health.
Unfortunately, group health insurance costs have skyrocketed in recent years, and you could be tempted to make cuts to your health programs and initiatives budget. However, before taking this step that may bring short-term benefits, you should ask yourself whether your investments encourage employees to adopt a reactive or preventive attitude toward their health. To learn more on the subject, read this article!In fact, businesses where employees make preventive choices see their health costs rise less sharply than those whose employees are reactive. To slow down the pace of group health insurance cost increases, you could simply review your benefits offering and focus on initiatives that promote preventive health-related behaviours among your employees.
Group insurance
Group insurance is the best example of a health investment where costs have soared. Prescription drug prices keep rising, thus pushing up group insurance premiums, and absences related to mental health issues are also getting more frequent and lasting longer.
Lowering your contribution to group insurance premiums would bring about short-term savings, but this would not prevent costs from increasing at the same pace every year.
The real solution lies in a culture change that would make employees take less medicine and avoid sick leaves. For example, you could encourage your employees to make greater use of the health professional services already covered under most group insurance programs, before they have to take expensive prescription drugs or go on sick leave. These health professionals (psychologist, social worker, chiropractor, osteopath, massage therapist, dietitian, etc.) act pre-emptively and often succeed in preventing more serious health problems down the road.
If your group insurance utilization statistics available upon renewal show a lower use of health professional services vs. taking medications, do not hesitate to raise employee awareness on this matter and you will all be better off for it.
Employee and family assistance programs
Employee assistance programs (EAP) are another service offered by organizations that care about the health of employees and their families. An EAP generally includes services related to physical and mental wellness, professional and family relationships, addictions, and even legal and financial matters. By offering your employees such a program, you will give them the opportunity to access reliable, confidential, prevention-oriented resources.
Employees who preventively call upon EAP services are less likely to take medications or go on sick leave. However, EAP utilization rates are usually rather low, just like the use of health professional services in the case of group insurance.
If you are already paying for an EAP and your utilization statistics are low, it is in your interest to promote this program. The easiest way is obviously to send communications and guide employees toward a specific service as needed, but you can take other initiatives such as sending questionnaires provided by the EAP and organizing small group awareness and information meetings.
Ergonomic services and equipment
Ergonomics is the most forgotten aspect of preventive group health insurance programs. Too often, ergonomic services and equipment are offered once a physical problem has occurred. Yet, it is profitable to invest in the preventive visit of an ergonomist to your workplace, if only to get personalized advice on the best working postures.
Indeed, adopting a good posture every day before experiencing pain is less costly than purchasing remedial equipment, taking medication or taking time off work. Employees generally appreciate the chance to learn how to work while avoiding the risk of injury. Preventive ergonomic measures are definitely a key element that should not be neglected in your employee health initiatives.
Healthy lifestyle
Finally, it is now recognized that preventing group health insurance rise begins with a healthy lifestyle, both at work and at home. Indeed, healthy living habits provide multiple benefits for the body and mind. As an employer, the opportunities to promote sound living habits can be as diverse and boundless as your imagination.
Several initiatives are inexpensive and require little planning, such as:
Purchase fruits and vegetables, distribute them or make them available in the kitchen;
Organize group walking sessions during lunch hour or even during working hours;
Encourage the use of stairs instead of elevators;
Organize a vaccination campaign.
Of course, depending on your budget, you could also implement initiatives to foster a healthy lifestyle among your employees:
Purchase a bicycle rack;
Reimburse part of sport and fitness subscription fee;
Purchase sports equipment (ball, stationary bicycle, etc.);
Arrange the workplace (showers, rest areas, etc.).
Prevention of group health insurance costs in the company
No matter how you choose to promote employee health, enhancing prevention should always be your first priority. Your employees will thank you for encouraging them to avoid health problems and improve their quality of life. As the saying goes, an ounce of prevention is worth a pound of cure!
Human Resources Director| Certified Human Resources Professional, François Ponton has a master's degree in public administration specialized in human resources management and he has been active for more than seven years in this domain. With a structured and flexible approach, he sets up fair and transparent HR politics, programs and processes. As a generalist, he has developed skills in performance management and global remuneration.