Back to blog
Posted by Johanne Potvin, CHRP, February 25 2020
Management & HR
Human Resources Management: Prevent Non-Cooperation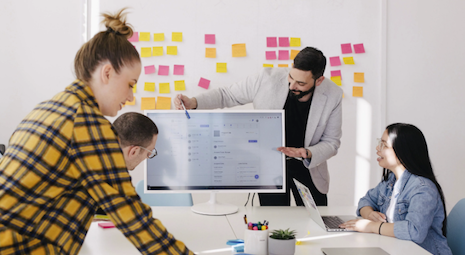 Effective human resources management is at the heart of a fruitful collaboration within your company. Two previous posts discussed various means of obtaining better cooperation from employees on disability, particularly those who are less cooperative. As I pointed out, the impact of non-cooperation goes beyond case management, and any such situation requires constructive action, and even administrative measures, if needed.
Although such behaviour can sometimes be predictable (employees who are not very cooperative in their daily interactions), it can come as a big surprise in other instances! So how can we prevent such situations from occurring?
Applying the best human ressources management practices
Human ressources management practices (by the line manager) and effective disability management practices are always appropriate when interacting with employees. Some actions more than others can help prevent non-cooperative behaviour further to a disability, such as the following:
1. Develop a positive rapport with your employees and acknowledge their efforts
Remember that employees will be more inclined to cooperate when they trust the organization and its representatives. If they have a negative perception of the workplace or if they had a difficult (rather than constructive) meeting with their manager, they will be less likely to maintain ongoing contact with that person or to cooperate in the management of their disability case. A meeting that ends on a sour note can often trigger a radical change in behaviour from that point on.
Given the incidence of mental health issues, it is recommended to train and coach line managers on how to conduct engaging meetings with employees facing problems, including those whose behaviour fails to meet the organization's expectations. Managers no longer have a choice: they must interact with their employees in an engaging and constructive manner in order to avoid breaking the "bond of trust" and thus quashing the employee's willingness to cooperate.
This advice is equally applicable to disability case managers. Good communication skills are required to foster constructive discussions.
When employees become uncooperative "further to" a meeting with their manager, the resulting conflict will hugely erode their willingness to return to work and could lead to a much longer absence. In such cases, do not hesitate to call on the assistance of the human resources or organizational development team to "manage" the situation internally; you should also advise the disability case manager, who will adjust the management plan accordingly.
Moreover, recognizing the employee's efforts is a good way to increase self-esteem and achieve positive reinforcement. This is an effective means of strengthening the bond between managers and their employees and among employees.
2. Make your employees accountable and let them know what you expect
Making employees accountable for adopting a set of behaviours that meet the expectations of the department and the organization is key to the development of a responsible work team. Moreover, when employees feel "empowered" and "in control" of their workload and service delivery, this reduces the stress factors that can contribute to a negative perception of the workplace.
Also, when employees are aware of their important role within the team, when they understand the organization's expectations in terms of attitude, behaviour and performance, and when they know they can count on the support of their manager and coworkers in difficult situations, they will more readily understand that their cooperation is crucial in every respect.
3. Know your employees and be watchful of early signs of psychological problems
As each person is unique and reacts differently to daily workplace situations, it is in the best interest of managers to know what strengthens or weakens their employees' motivation. This will enable them to recognize when an employee needs help/assistance and to know how to interact in sensitive situations. Managers who really know their employees will also be able to choose their words carefully, adopt the right tone and adjust their non-verbal behaviour to make each employee feel secure, particularly when it's time to discuss sensitive matters such as performance issues.
Developing a positive relationship paves the way for constructive discussions with employees in the workplace or when they are on disability and feel apprehensive about returning to work.
4. Maintain a good working atmosphere and organize work in an effective manner
It is recognized that conflict situations affect the atmosphere in the workplace and alter not only the positive perception employees have of their work environment, but also their relationships with others. Sound management practices aimed at maintaining a healthy work environment and fostering interpersonal cooperation are a winning condition for the development of cooperative behaviours.
Likewise, regularly ensuring that workloads are fairly distributed and reasonable is a good way to reinforce the feeling that the work setting will not generate an unmanageable level of stress upon an eventual return to work. When their health condition begins to improve, employees will thus be more open to discussions about their upcoming return to work.
Conclusion
The line manager is one of the major players, if not the most important, in triggering collaborative behaviours from employees.
In many cases, the implementation of human ressources management practices and effective disability case management practices will require appropriate training and coaching. Given today's complex issues (at both individual and organizational levels), delivering training suited to the needs of these managers will help them develop the relational skills that are instrumental to an appropriate response, productive meetings and effective communications.
Senior Advisor with JPotvin Santé/Productivité au travail | This article was written by our contributor, Johanne Potvin. Do you want to know more on this topic? Do not hesitate to contact her at JPotvin.spt@gmail.com or 514 770 1866.