Back to blog
Posted by Olivier Coiteux, Group Insurance Plan Advisor, August 3 2017
News
Online Doctor Consultation: An Advantage for your Employees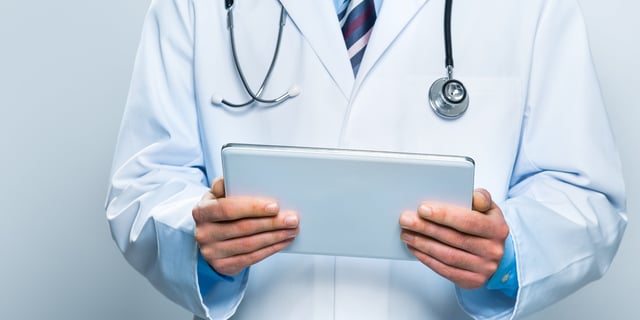 An ageing population, shortage of physicians, work overload, health system disorganization, etc. are all factors that put pressure on our universal health system, often making access to health care difficult. Many employees have to take several hours off work to see a doctor for a sore throat or a headache. Such absences affect not only the lives of employees, but also the profitability and productivity of their employers.
AGA Benefit Solutions is therefore pleased to announce it is partnering with TELUS Health to provide its clients and their employees with the services of a virtual clinic. This virtual clinic will improve access to an online doctor. To learn more about this online service, read this article now!
What Is a Virtual Clinic?
Users of the virtual clinic can see an online doctor via videoconferencing through the TELUS Health application (available on IPhone or Android). The service is available from 8:00 a.m. to 9:00 p.m. from Monday to Friday and from 9:00 a.m. to 3:00 p.m. on weekends.
Doctors can thus assess the needs of users, prescribe medications or renew prescriptions, refer them to specialists and prescribe lab tests, all this by electronic means.
The family physicians practicing virtual medicine also see patients in their office. Moreover, an online doctor is assisted by nurses and health care coordinators who manage patient files (triage, coordination, assignment, administration, etc.).
What Types of Conditions can be Treated by an Online Doctor?
Recent studies show that more than 50% of medical consultations do not require a physical examination of the patient. Therefore, several conditions can be treated via videoconferencing, including:
Cold, flu, fever
Sore throat
Urinary tract infection
Skin problem, rash
Stomach pain, diarrhea, vomiting
Mental health issues: depression, anxiety, posttraumatic stress
Pediatrics: fever, rash, respiratory problems
What Are the Benefits of this Service?
Time saving: The virtual clinic enables employees to save time and see an online doctor easily.
Accessibility: As the technology is accessible from any location with an Internet connection, it enables patients to see an online doctor even when they live in poorly serviced areas.
Health promotion: With simple and quick access, it becomes easier to manage chronic conditions and employees no longer have to postpone their visit to the doctor for lack of time.
Enhanced engagement: Your employees will certainly appreciate having access to such a service. Employees who are healthy and engaged make your business more productive.
Positive impact on group insurance: Improved medical follow-up and better access to care can reduce the frequency and length of disability periods. An easy access to an online doctor also allows the employer to implement better cost management practices without irritating employees.
Easy administration for employers: By combining this service with your group insurance at AGA Benefit Solutions, you benefit from advantageous rates and no additional invoice is necessary. AGA takes care of billing and member data transfer.
Telemedicine could easily become the new normal.
To Find Out More…
Contact us if you want more information on this product and how it works or if you wish to add it to your group insurance plan.
Group Insurance Plan Advisor | During 5 years of experience, Oliver succeeded working on processes and concepts that promoted the viability and profitability of group insurance plans to its customers. With his dynamic and innovative approach, Oliver is able to offer high quality expertise focusing on the needs of his partners while optimizing traditional industry practices.