Back to blog
Posted by Chantal Renaud, Group Insurance and Group Annuity Plans Advisor, April 14 2021
Plan Implementation
Things Your Group Insurance Advisor Will Never Tell You!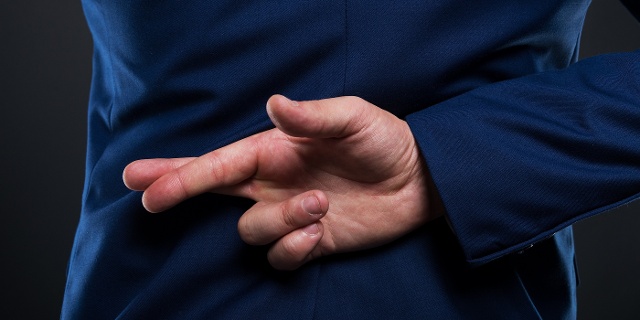 The group insurance and annuity plan industry is increasingly competitive. What could be concealed behind a product and a price? There are a few things you ought to know to get a clearer picture and ask your insurance advisor the right questions.
Through our many years of experience in group insurance, we have come across all kinds of behaviour! Not all brokers are equally committed to transparency or provide the same level of service.
Here are the 5 things that your broker will probably never tell you.
My license is not in good standing!
First of all, it is important to check your insurance advisor's record with the Autorité des marchés financiers (AMF) by consulting the Register of authorized firms and individuals. This register will enable you to know whether your advisor's license is in good standing. Validating the license will also help you find out if this person was ever the subject of a complaint for improper practice.
It is important to check this information regularly over the years. You will thus be certain that the professional you are dealing with remains in good standing and diligently meets his/her continuing education and ethical obligations, so as to properly support and advise you.
It will take only a minute, and you will be reassured!
I am here to sell you a price!
According to the industry's rules of conduct, the insurance advisor must perform a comprehensive analysis of your needs before making a recommendation. This analysis is usually conducted at the time of account opening and periodically thereafter, as needed.
This process enables your insurance advisor to fully understand the needs of your company and your employees and get a feel of how your group is evolving in order to submit customized recommendations. Too often, we have seen brokers close a deal by promising a temporary rate reduction through a single tendering exercise. Of course, it is important to test the market from time to time to get a good quote, but if the plan offered does not meet your needs, you are no better off!
I am comfortable with the level of administration fees!
Very few brokers are comfortable discussing administration fees, and this is not normal. It may mean something fishy is going on (an excessively high commission, for instance).
Group insurance fees may appear high, but were you ever provided with a clear explanation of what they include? Fees usually consist of the following:
General administration fees: for billing, brochure production, administrators web portal, etc.
Claim adjustment expenses: for claims processing, members web portal, customer service, etc.
Insurer's profit and risk charges
Tax on capital (3.48% in Quebec)
Broker commission
The first four fee items are normally determined by the insurer. They generally vary based on the premium level and the complexity of the account. The higher the premium, the lower the fees should be; and the more complex the account (number of classes, modules, divisions, etc.), the higher are the fees.
The evolution of your group can require a renegotiation of administration fees. Unfortunately, insurers will not reduce them automatically. It is the role of your broker to negotiate such fees with your insurer.
At AGA, we offer our AGA +PLUS service that provides competitive fees along with efficient, customized service!
My commission is too high!
The last item included in the administration fees is the commission charged by the broker. This commission represents the compensation received by your insurance advisor for his/her services. Although it is included in the fees charged by the insurer, the commission level is usually set by the broker.
The commission level normally varies depending on the premiums charged and the level of service. To ensure that it is not excessive for the service level provided, your advisor should comply with the commission schedules set by the group insurance and annuity plan industry.
Your insurance advisor must also act with integrity and make recommendations that meet your needs rather than his/her own. Fortunately, sales contests have pretty much disappeared from the scene, but some brokers concentrate their volume of business with a very small number of insurers in order to maximize their compensation. At AGA, we have implemented a compensation policy and a code of ethics and conduct that apply to all our employees and help us ensure that we always put our clients' interests first.
I "cut" into benefits in order to sell individual coverage and earn more commission!
When we meet new clients, we find situations where the level of group coverage is too low. Sometimes, this is result of a recommendation from the incumbent advisor, who prefers offering additional insurance coverage (e.g.: disability insurance or life insurance) to employees on an individual basis. This strategy may increase the advisor's compensation as the commission level is often higher for individual products. But beware! One of the goals of group insurance is to protect employees against financial risks. When the benefits offered are reduced, employees are at risk should they decline the individual insurance (often more expensive and requiring proof of insurability).
Trusting Your Insurance Advisor
In a nutshell, it is important that your insurance advisor be trustworthy and that you feel free to make decisions on your own terms further to his/her recommendations. Here are the key takeaways:
Do not hesitate to consult the AMF to validate that your advisor is properly licensed.
A regular needs analysis is recommended to meet your expectations and those of your employees.
Administration fees are negotiable!
Your insurance advisor must be honest and work in your best interest.

There is nothing wrong with validating information and asking questions. You can rather take credit for this! After all, as the costs related to group insurance and annuity plans represent a major expense for a company, it is best to ensure that your advisor and your products really meet your needs!

With AGA Benefit Solutions for more than 20 years, Chantal has the experience required to help businesses of all sizes set up and administer their group insurance plans. Her proactive approach leads to an informed vision of the various strategic planning opportunities. With her professionalism, determination and excellent communication skills, Chantal makes sure her clients fully understand the issues pertaining to group insurance and retirement plans.