Back to blog
Posted by Stephanie Belisle, Group Insurance Plan Advisor, June 7 2017
Workplace Wellness
Wellness Initiatives at Work: 8 Ideas that Can Help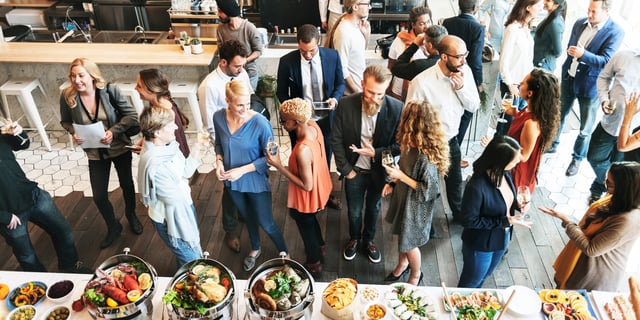 You know how important it is to contribute to your employees' quality of work life. You listen to your employees, and your corporate culture fosters boldness and innovation. Your employees demonstrate a fantastic team spirit. That's great! You could probably write this article. But like most employers, you are presumably looking for ideas to enhance your employees' health and wellness initiatives at work. Below are a few pointers that may inspire you and nicely complement a benefits program!
Food for the brain
It is proven that the brain needs a lot of energy to work effectively. Ideally, we don't encourage candy and other sweets. Fruit baskets, nuts (beware of allergies!), yogurt or even dips (avocado, hummus, etc.) can be excellent "food for the brain" to sustain employee performance and it's a great wellness initiave at work.
Get moving
There is nothing worse than spending 8 hours a day sitting in front of a computer or making repetitive movements. To relax and improve posture, there is nothing like a health break or a yoga class to encourage wellness initiatives at work. Just move some furniture out of the way in the kitchen or the board room at lunch hour, and you're all set! Finding a trainer who can come for a class is easy, but this could also be an opportunity for an employee to develop a skill.
Ready, set, go
Encouraging your employees to take part in sporting competitions, like walks, runs or even triathlons, will achieve several objectives. First, you make sure they train over a few weeks to a few months. Also, you promote cooperation and foster a team spirit. Finally, by choosing an event in connection with a charity, you use this opportunity to give back to the community!
For a good cause
Even if your employees are not sports inclined, it is possible to encourage them and give them free time to support a charitable cause. Let them select the cause that will make them feel even more committed!
A breath of fresh air
With summer on our doorstep, we would all prefer being out in the sunshine rather than sitting in a board room. Why not combine both and implement wellness initiaves at work? Move your meeting to the green lawn of the nearby campus. Better still, if you don't need paper or computers, have a walk-and-talk meeting. You may wish your meetings would never end!
Confetti and a cake
Despite what some people say, everyone appreciates little gestures for their birthday, such as decorations or a small card signed by team members. Although this is not totally "healthy", taking a moment to enjoy a piece of cake after lunch is great! Indeed, health also includes mental health! And if your team gets too large, you can always celebrate birthdays all together once a month. And why not let the "heroes of the day" choose their cakes!
A meal together
From time immemorial, meals have been an opportunity to get together and share a moment, talk and connect. Instead of the usual Friday restaurant outing, why not organize a "healthy potluck"? All employees can prepare a healthy dish for sharing. This is a time to exchange one's best recipes and have a good time as a team.
Experts and a chat
Several providers and speakers can come and give training and advice on health and wellness themes, such as nutrition, sleep, mental health, and even provide you with wellness initiaves at work! How can you know what your employees might be interested in? Ideally, you should conduct an overall assessment of your employees' health, a service often provided through employee assistance programs. Your employees can thus complete a questionnaire on their health. The findings can help you better identify your company's health issues and implement appropriate actions.
Encourage change and effective wellness initiatives at work
These few simple ideas will not dramatically change your company or your employees' motivation level, but they will help your business remain a great place to work.
If you want to contribute even more to your employees' physical, mental or financial health, an AGA Benefit Solutions Advisor can help you improve or set up your employee group benefit plan or pension plan. Contact us or read the following article to learn more about the cost of an initial group insurance plan.
Group Insurance Plan Advisor | Bachelor of consumer science with more than 15 years of experience in group insurance, Stephanie makes customer satisfaction its top priority. Professional, attentive and honest, she assures you a quality service that meets the needs of employers and insured persons. Stephanie also enjoys understanding and communicating the various issues of group plans.